Q: Is it possible to sync together more gameboys by using a 4 way link cable and setting one gameboy to master and then the rest to slave?
A: The 4-way cable doesn't work. But it's possible to sync multiple Game Boys by splitting and splicing regular Game Link cables.
"Master" Gameboy     "Slave" Gameboys (1 or more)

              GND <-> GND
            Clock  -> Clock
       Serial Out  -> Serial In
 
Gameboy link port  no Description Color(Form GBATEK by Martin Korth)
-----------------
  _____________     1 +5V         N/A
 /  5   3   1  \    2 Serial out  Red(orange)
| =###=###=###= |   3 Serial in   Orange(red)
|   6   4   2   |   4 Reserved(SD if it exists) Brown
`---------------'   5 Clock       Green
 (looking at GB)    6 GND         Blue

This is a 6-way LSDJ or nanoloop sync-box i made :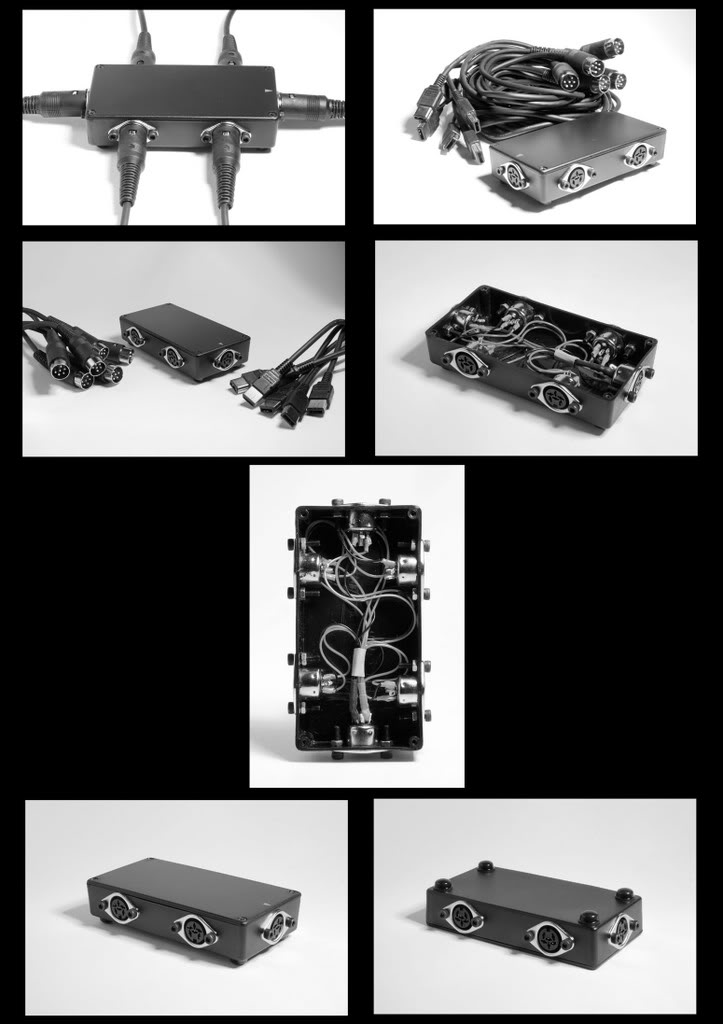 Q: Who made this 6-way LSDJ/Nanoloop sync box and what can I do to purchase one?
A: Was made by Delfy http://www.myspace.com/delfycreations Was custom made for Calbee (and now property of crashfaster), so as far as ordering one goes, you'd have to contact Delfy and see if he'll make another.
Q: Is there a tutorial available for one who knows nothing about splicing gameboy link cables or any cable in general? If not, can anyone make one?
Community content is available under
CC-BY-SA
unless otherwise noted.